Customer empathy
Article
Building a business on customer empathy
Customer empathy is the ability to see things from the customer's perspective. Walking a mile in customers' shoes has bigtime business value.
Published October 16, 2019
Last updated April 27, 2021
Customer empathy is a great tool for people in customer-facing roles. It can also be the strategy behind any business that's committed to customer-centricity.
What is customer empathy?
Customer empathy is the ability to see things from the customer's perspective. As a business, it is the ability to understand what a customer experiences when they use your company's products or services.
Whether a customer's experience is good, bad, or somewhere in between, empathy helps build trust and an emotional connection between that customer and the business. It can help a support agent dealing with an angry customer, for example. But it is not only important for customer-facing roles or when emotion runs high. Rather, customer empathy is necessary in all business operations, for all roles.
Being truly customer-centric means encouraging everyone in the company, from product teams to marketers, to think about everything they do from the customers' point of view. Infusing customer empathy throughout a business can lead to better products, a better customer experience, and greater customer satisfaction.
Customer empathy in the call center
Frontline customer support is often the first team we think of when customer empathy comes up. It's easy to see how empathy can dramatically improve many stressful situations:
Navigating a confusing phone tree in the wake of an emergency room visit or stolen credit card.
Clicking through an online help center that provided little in the way of help.
Standing among delayed passengers at an airport gate, refreshing the airline app for updates and demanding answers in person from harried staff. 
We know these experiences, having lived through them or similar ones as customers. But even the best training and technology can't prevent these too-familiar situations. This is where customer empathy comes into play.
The mere act of acknowledging that we've had similar experiences is the first step in cultivating a sense of customer empathy. Remembering what it is like in those moments helps a customer service representative see problems as opportunities to repair the customer relationship in the short-term and the long-term.
Empathy statements for customer service
Empathy statements are one way for front-line agents and associates to build trust with customers. Empathetic statements demonstrate that:
The support agent understands the problem and what the customer might be thinking and feeling as a result, and
The agent is willing and able to help the customer reach a resolution.
These are some examples of empathy statements:
"I'm sorry you've experienced this."
"This has happened to me, too."
"That's so frustrating."
"Thank you for getting in touch with us about this today."
There are many ways to personalize this final message to the business. For example, an agent for a subscription meal kit might mention how many meal boxes the customer received and either thanks them for being a new customer or for being a loyal customer after x number of boxes.
Here is an actual empathy statement from a subscription meal kit company. It did the trick by affirming the frustration and being ready to dive in and help.
I am so sorry to hear about your Box not yet arriving! That would be incredibly frustrating and disappointing and I deeply apologize for this. It would be my pleasure to assist you today!
The takeaways from this experience: Don't mess with people's dinner and don't forget to empathize.
That's customer empathy as a solution. Let's think about customer empathy as a feature of a team and a company.
Tips for building customer empathy on your team
Many of the most important customer service skills managers look for are also empathy-building skills. These customer support soft skills are essential when building successful support teams that are ready to show empathy for customers.
Sam Goff, former Director of Guest Services at Magnolia, describes the crucial role front-line support agents play in creating a positive, brand-right experience for the brand, which was co-founded by HGTV stars Chip and Joanna Gaines. Going beyond traditional ticket metrics, the team is held to one core tenet to define success: Get the story.
Magnolia's "get the story" approach to phone support reminds us that there are two parties in the equation: customers seeking assistance or an understanding ear, and the employees who must be empowered to make that experience happen. For business-to-business providers, these are customers, too. That's why having empathy for agents and creating the best possible experience for them is a mark of the next-generation call center.
Empathy for agents
Agents won't be able to show empathy for customers unless the company shows empathy for their agents. In other words, providing the best employee experience leads to great customer experience. Try these tips to show empathy for the folks on the front lines:
Encourage a "busy now, please come back later" flag at their stations or desks. This puts a boundary around their time so colleagues aren't compelled to approach when they're heads down or taking a well-deserved break. And, since agents are often so willing to drop everything and help for drive-by consults, it builds self-care time into their day.
A leaderboard for fun or unusual business metrics: champion at high-fives or most positive comments, for example.
Storytelling. Starbucks, for example, encourages baristas to tell stories about the coffee, a ritual that starts with a new-hire tasting and sharing. Similarly, Ritz-Carlton teams start the day with a customer service success story, inspiring them to deliver a story-worthy customer experience in the day ahead. Both approaches help front-line employees feel connected to and included in the business.
Why companies should focus on customer empathy
Customer empathy can help define an entire approach to business: the products or services it provides, or the company's approach to marketing, training, or industry leadership. This can be a good thing. The products or services a company provides must provide the best solutions to customers' problems, or it will easily be toppled by competitors who understand customers better. In other words, by competitors with more empathy for the customer experience.
Furthermore, the line is blurred between what customers want transactionally and what they expect as human beings in a big, confusing world. In the growing empathy movement, companies are expected to be agents of change. Millennials and Generation Z tend to funnel their dollars into socially responsible companies. Both indicate that empathy at large-for the environment, for a diverse customer base, and for the people within a company's own walls-is another business imperative.
Customer empathy all-stars
Modern mission statements or company stories often explain what didn't exist—be it in software or baby food—and how the founders took matters into their own hands to solve a problem that impacted them or people they knew. Learn more from founders and CEOs whose entire business plans include a heavy helping of customer empathy.
Hatch
Hatch founder and CEO Ariane Goldman set out to solve her own problem, in turn solving the same one impacting many new and expectant mothers. In founding Hatch, which provides before-, during-, and after-pregnancy clothing, services, and community, Goldman explained in 2020 at the National Retail Federation Big Show that she was driven by her passion to create a support structure around the entire pregnancy experience.
SoulCycle and Flywheel
Ruth Zukerman co-founded SoulCycle and Flywheel. In an episode of the Repeat Customer podcast, she explains how empathy for the everyday struggles around individual fitness routines served as the unlock to her business.
One Medical
Another hole in the market: a human-centric, tech-savvy healthcare experience.
In another podcast episode, One Medical President and CEO Amir Rubin diagnoses what's wrong with the healthcare experience today, and explains what his company is doing about it after walking a mile in patients' shoes.
Henning
Henning makes luxury, plus-size womenswear. Co-founder and CEO Lauren Chan, speaking virtually at the 2021 National Retail Federation Big Show, said that she is most excited about getting to know their customers better and making more data-driven decisions. As the company shifts to an on-demand model of production, the company centers customer empathy and avoids a common industry pitfall: making a collection, being locked into selling it, and therefore being forced to "put it down people's throats for four months" whether customers want it or not.
Small-scale and large-scale customer empathy
Customer empathy must happen at a small scale and on a large scale. Individual agents or associates to individual customers must be able to judge in real time how to best help a customer standing in front of them or waiting on the other side of the chat window. On a bigger scale, businesses must always provide value for customers. Cultivating customer empathy at both levels helps ensure the customer and their experience remains at the center of everyone's work.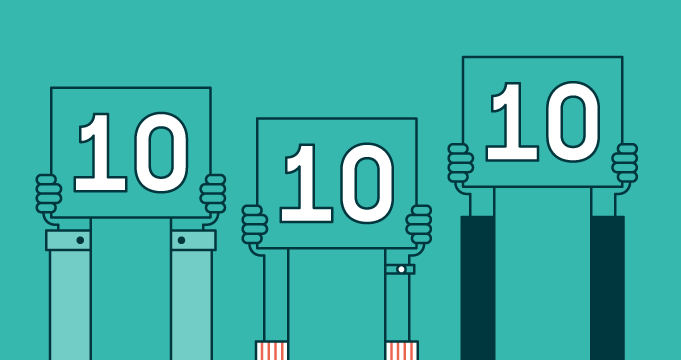 Your guide to executing excellent customer experiences
Creating great customer experiences can lead to loyal customers, improved word-of-mouth promotion, and increased revenue.