8 steps to creating loyal, human, customer connections
8 steps to creating loyal, human, customer connections
Last updated March 23, 2022
What if someone told you there was a formula for generating repeat business? That, in just eight simple steps, customer loyalty could be yours. Would it sound too good to be true?
It might, unless you hear it firsthand from Richard Shapiro, founder and president of The Center for Client Retention and author of The Endangered Customer: 8 Steps to Guarantee Repeat Business. Earlier this year, at the National Retail Federation's BIG Show, Shapiro stood before an audience of entrepreneurs and shared a personal story about his father. As an owner of a successful small business, Shapiro's father genuinely believed that all customers enter a store as strangers, but leave as friends.
This anecdote sent me back more than a decade to Paris, to the first time I visited the cozy, eccentric dream of a bookshop—the famed Shakespeare and Company—and took a picture of a sign that reads: "Be not inhospitable to strangers, lest they be angels in disguise." The bookshop was once home to writers like Ernest Hemingway and F. Scott Fitzgerald, who were allowed to sleep there in exchange for a few hours work. Even today, lesser-known writers can still stowaway in craggy corners for the same deal. The difference between now and then is that today consumers often have to wait in line to get inside the store. This is partly due to the shop's storied history, but also, I believe, because they live their motto.
People first, customers second
The mindset that "customers are people first and customers second" is one that's shaped Shapiro's entire career. Today, he helps businesses to capitalize on their humanity, a tough job in a landscape that is global, digital, and multichannel. In fact, Shapiro will be the first to tell you that customers are most likely to give your company repeat business because you've made their experience convenient—not because they especially like your business. (Think: Amazon's one-click shopping and free two-day delivery. It's so easy; any feelings you might have about Amazon will probably take a backseat.)
Today, he [Shapiro] helps businesses to capitalize on their humanity, a tough job in a landscape that is global, digital, and multichannel.
Shapiro road-tested his eight steps for generating repeat business by visiting retailers across the United States and evaluating the customer experience. His steps roll up into three categories that he calls "The Greet," "The Assist," and "The Leave-behind"—something akin to a novel's beginning, middle, and end.
Let's start at the beginning
Naturally, your relationship with a customer begins with how you welcome them into your physical or digital space. It's an emotional experience, so ask yourself, "How have I made the customer feel?" Now imagine what you don't want for your customers. Most of us have probably walked into a store and had the sensation that we accidentally wandered into foreign territory. Or, that we were prey for pouncing store associates. Or perhaps we signed up for an online newsletter and were drowned in email offers before we ever made a purchase. It's all too easy to make comparisons to a first date… the stranger who comes on too strong is likely to be avoided in the future.
That said, as Shapiro explained over coffee, what happens during digital interactions is often the opposite of coming on too strong. The first time a customer logs in or set their password with your business, do you send them a welcome message? "These emails set the stage," he said, "and all too often, that email is automated and says, 'Do not reply to this message.' That is not the way to welcome a new customer."
The good news is that there's an easy fix. That first email should include a specific person's contact information so that customers can reach out to someone if they have questions or concerns. A little specificity goes a long way.
In his brick and mortar store, the first question Shapiro's father asked was about the customer. He never led with the merchandise or "How can I help?" Instead, he asked something more personal: "How's your weekend going?" If he already knew the customer, he'd ask a specific question about their life, or perhaps about their family. He was most interested, Shapiro explained, in the customer's mindset.
There are magic phrases to listen for, Shapiro said. Things like: "This is my first time in your store," or "I just moved into the area," or "I looked at your website and…" They're magic phrases because they invite responses. If you're listening, you'll find that your customers give you chances to engage and build relationships with them.
If you're listening, you'll find that your customers give you chances to engage and build relationships with them.
The art of the interaction
"The Assist" phase of the customer interaction is exactly what it sounds like. This is arguably the most straightforward part of the customer experience and yet the quality of an interaction makes all the difference: Are you friendly? Are you helpful? Is there something more that you can offer? Have you made the experience easy?
Eight steps to guarantee repeat business
A formula is only a means to an end. It's how you practice these eight steps that matters.
1. Make me feel welcome. Help customers feel hope. Yes, hope. Customers want to feel like they've entered a space where they belong, where they can get help if they need it, and where somebody, maybe, will learn their name.

2. Give me your full attention. Help customers feel like they're in control. This step has a lot to do with response time. The longer you take to get back to a customer, the less important they feel. Responses don't have to be immediate, but they do need to feel personal.

3. Answer more than my question. Help customers feel like they're connecting. Shapiro also describes this step as adding positive tension. Answer the customer's question, but also give them something more—another resource, a link to your Facebook page… it isn't the length of an email that matters, he says, so much as its content and how personal that message feels.

4. Know your stuff. Help customers to trust you. This might go without saying, but your brand and your staff should be experts in your space and in the products you offer. This step underscores the importance of investing in your employees.

How does your CX measure up?

Build a customer experience brand that leads to loyal customers.

5. Don't tell me no. Don't invite frustration into the mix. This is what Shapiro calls "the relationship killer, the retention killer, and the loyalty killer." These are strong words and that's because semantics matter. Turn your negative responses into positive statements. For example, don't tell customers you close at 5pm. Tell them you open at 9am, and you hope you'll see them in the morning.

6. Invite me to return. Help customers feel wanted. The great thing about relationship-based business interactions is that we can draw from our experiences in life. It's nice to feel wanted and to know, without guesswork, that a friend, colleague, or romantic partner wants to spend more time with you, right? The trick here is to tie this communication to a future action. Invite the customer to take advantage of a special promotion, or give them someone to reach out to if they have any questions.

7. Show me I matter. Show customers that you care. This is where technology can aid your business. When you use software that tracks the history of customer interactions, messages and outreach can be made really personal.

8. Surprise me in good ways. Help customers feel special by recognizing them with a note or message, especially when they've shared something personal. Did they just move? Send a houseplant. Consider giving your employees a budget to use at their discretion to surprise or gift customers in small ways, or block time to send personal notes. Giving employees business cards also helps them feel more empowered.
All good things can be ruined by a bad ending
The area where Shapiro found most retailers lacking was the "leave-behind" phase. If you think of a customer interaction like a dinner party, you wouldn't send your guests out the door with a breezy "Have a nice life!"
No, instead you'd be more gracious: "Thanks for coming, and please come again." Or, "I can't wait to hear about your trip when you're back from vacation." (Or, if you're like me, you might just say, "Next time we'll do your place, and I'll bring the wine.") The important thing is to invite your customers to return. Tell them you want to see them again, and to and to spend more time with them. This is something that happens at the macro level, between your employees and your customers. Also, it's simple, but conclude the interaction with the customer's name.
"The strongest bond is between two people. If every company has access to the same technology, then the customer experience can be replicated and that won't build loyalty," Shapiro said. Indeed, an example he gave about returning to a coffee shop because you're used to dealing with Mary, truly resonated. There is a coffee shop I currently visit because a man named Israel, behind the counter, never fails to make me smile.
"The strongest bond is between two people. If every company has access to the same technology, then the customer experience can be replicated and that won't build loyalty."
If you can't be intimate, create the illusion of intimacy
In the end, it's these person-to-person interactions that matter most. Your employees are the people who will use "I" statements like, "I'd love to see you again." Or, "I'll give you a call when that product is back in stock." These statements feel authentic when delivered from someone who knows the customer as more than a transaction.
"It's so important," Shapiro emphasized, "if you have really good people working for you, to retain them and not let them go to the competition."
It might seem hard to foster these kinds of interactions at scale, but anyone with access to customer information can create personal interactions. Shapiro often advises large call centers and advocates for creating smaller teams within the larger whole. With the right software, any agent can say, "I know you normally deal with Sarah, but I'm Sam and would love to help." He also recommends putting pictures of staff on your site, and even tailor-scripting some follow-up questions to help staff learn more about customers. These might include, "How did you learn about our store/business?" or "Can I recommend parking in the area?" or "When do you plan to come in?"
The place for people
For over an hour, Shapiro graciously chatted with me about customer connections and loyalty. Surprisingly, incentive programs never once entered our conversation. Instead, the words "people" and "person" are repeated again and again. While artificial intelligence (AI) was a big theme at the BIG Show, Shapiro didn't linger long there. "AI will always be smarter than people," Shapiro concluded. "But machines will never have a heart. New customers will become return customers when they make a connection with another human."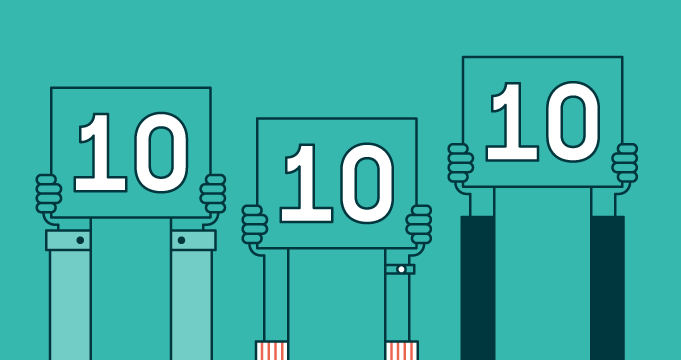 How does your CX measure up?
Build a customer experience brand that leads to loyal customers.
How does your CX measure up?
Build a customer experience brand that leads to loyal customers.
Learn how